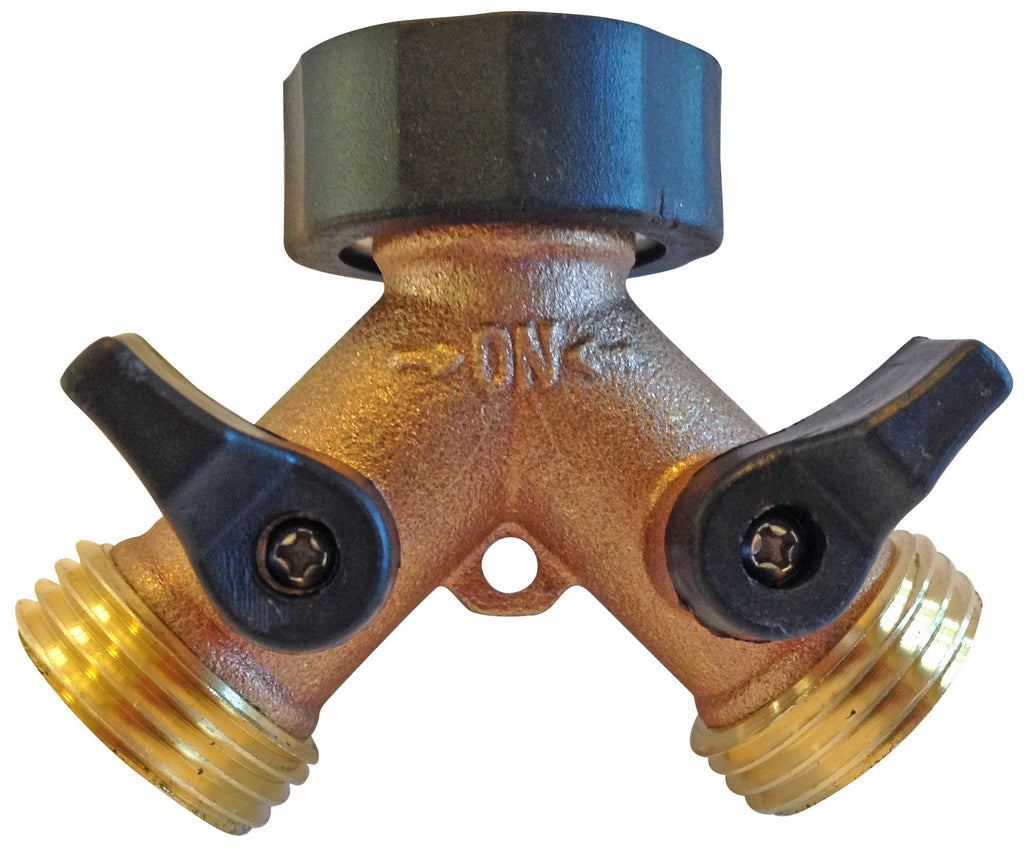 The World's Best 2-Way Garden Hose Y Connector with Shut-Off Valves
The ideal solution for running two hoses from one faucet or spigot. Easy-to-turn shut-off valve handles don't require pliers so you can open or close the valves without hurting your hands.
Free-rotating faucet attachment perfectly designed for a tight seal so no leaks will ever happen, while also allowing you to position the Y Connector at just the perfect angle to suit your needs.
Has arrow markers to easily help you know if the 2-way shut-off valves are turned on or off.
The comfortable grip sleeve around the faucet attachment ensures you can easily and comfortably screw on and attach or remove and unscrew the hose y-connector with your hands… no need for pliers or a pipe wrench!
Heavy-Duty Solid Brass construction gives you extra durability and reliability to stand the test of time. Your satisfaction is 100% Guaranteed for Life! If you aren't 100% satisfied with this garden hose y-connector, simply return it to us for a full refund or replacement. If at any time during your life the y-connector fails to function properly, simply return it to us for a free replacement.
It's a beautiful Saturday morning… and your neighbor is just getting ready to enjoy some outdoor tasks like washing his car and dog, all while simultaneously watering his garden with his fancy sprinkler and sending water to his flower beds via his soaker hose.
Unfortunately, the day turns sour for him when he realizes his inexpensive y-connector is broken! He just bought it last season! Now he's feeling grumpy, and is going to have to do all these tasks one at a time.
Fortunately, that would have been your fate, had you not bought:
The World's Best 2-Way Garden Hose Y Connector with Shut-Off Valves.
This 2-way hose y-connector is the perfect solution for your multi-tasking outdoor spigot needs. It has a comfortable grip for screwing the connector onto your faucet. And the shut-off valve handles are easy to turn, making it simple to adjust the water flow to whatever ratio you desire... from a trickle, to the full force and pressure of your spigot's water supply.
The heavy-duty solid brass construction is guaranteed to last you for a lifetime, and is also guaranteed to operate leak-free. If it breaks, or fails to satisfy you 100%, you can simply return it for a full refund or free replacement.
The leak-proof ball valves inside the nozzle are made from metal (not plastic!) to ensure that they will last you for as long as you need. The firm grips on the outside are made to be easy to turn, and to not get stuck. So you won't need to go hunting for a pair of pliers whenever you need to adjust these valves! The only maintenance required is to occasionally insert a new hose washer every now and then, to ensure the attachment to the faucet stays secure and leak-free.
Put an end to the hassles and frustrations of constantly swapping hoses or not being able to have more than one hose connected at a time... click on the yellow "add to cart" button at the top of this page to order now!