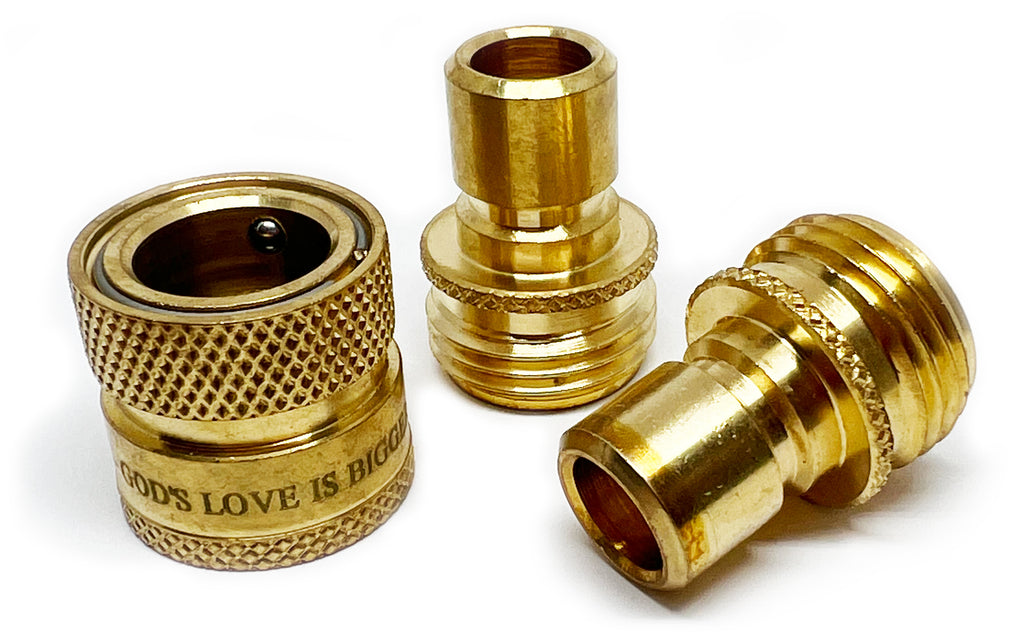 World's Best Lead-Free Brass Garden Hose Quick Connect Set - 1 Female and 2 Male Fittings for RV & Home Use
Essential Gardening Accessory: This product comes with 1 female quick connector and 2 male quick connectors, designed to support all standard 3/4" garden hose fittings. Maximize your garden's potential with the convenience of quick connections for your watering devices, nozzles, and sprinklers.
Superior Craftsmanship: Our connectors are made with lead-free brass, surpassing competitors who use aluminum or plastic. This translates into increased durability, leak-free performance, and an extended service life, all while being light in weight. It's the perfect blend of strength and practicality.
Effortless Connection: Embrace the simplicity of our easy connect and disconnect system. With its unique rubberized grip design, attaching and detaching your garden hose is no longer a chore. Save time and make your gardening more efficient, without any water pressure reduction or flow stoppage.
High Performance Under Pressure: Our connectors are engineered to withstand up to 200 PSI, providing continuous water flow for your various garden needs. With such high resistance, it's an excellent addition to your garden accessories, keeping your watering tasks flowing smoothly.
Lifetime Assurance: We believe in the quality of our product and stand by it with a lifetime warranty. If you encounter any issues, we offer full refund or replacement services, because your satisfaction is our highest priority. Invest in quality and reliability for your garden with our quick connector set.
Revolutionize your watering tasks with our innovative quick connector set. Made with lead-free brass, our connectors provide lasting durability and give you the freedom to enjoy your watering tasks without the risks posed by conventional leaded brass options.

This kit includes 1 female quick connector and 2 male quick connectors designed for compatibility with all standard GHT (garden hose thread) connections, including garden hoses, watering wands, campers, RVs, boats, lawn sprinklers, hose nozzles, and more. The easy-to-use design aids in quick and effortless connections. They ensure a solid, leak-free connection every time.

Why choose our product? It's a hassle-free lifestyle. Now you can interchange between tools with ease, saving time and effort. These eliminate the hassle of manual screwing and unscrewing, ensuring that your watering tasks are not disrupted by unnecessary hassles.

Our lead-free brass sets a new standard, giving you a superior option for drinking water applications. From campgrounds to your home garden, this tool simplifies your life. We've kept your long-term use in mind by not using plastic parts that fail. Unlike cheaper alternatives that corrode or leak, our design withstands the test of time.

The included washer's unique design enables a secure seal, enhancing reliability. Bypass searching for odd sizes of O-rings in hardware stores. Our design does away with the need for O-rings, simplifying maintenance.

Step up your watering game today! Our Quick Connector Set delivers in quality, safety, and durability, truly standing apart from the competition. Not just a purchase, it's an investment for a lifetime. Transform your watering routine, join our satisfied user base, and upgrade to a safer, hassle-free, leak-free watering experience. You'll wonder how you ever managed without them - it's a game-changer you'll wish you'd discovered sooner. These aren't your everyday connectors. These are built to last and backed by a lifetime warranty.