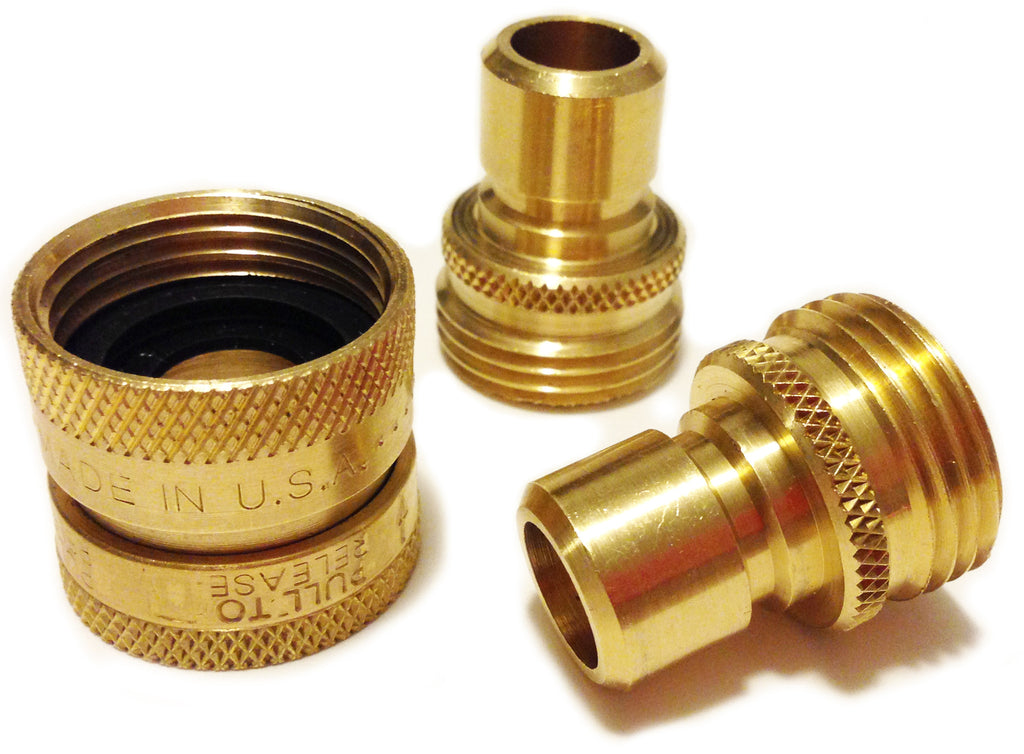 The Quick-Connect That Doesn't Leak and is Guaranteed for Life!
This garden hose quick-connect is an invaluable tool to have around your house. Once you start using these, you'll wonder how you ever managed without them. They make connecting and disconnecting any of your garden hose equipment or accessories a snap.
You will be able to move your watering accessories from connection to connection in seconds. No more screwing and unscrewing, twisting and turning, over and over again!
These pop apart with a simple pull of the outer sleeve.
When you are ready to re-connect, simply pull back the outer ring, and push the parts back together with a quick shove. It's as easy as that!
It also works great to attach your hose to your water faucet. No more bending over and trying to screw on that unwieldy hose upside down. Simply install this at the end of your faucet and begin to enjoy how easy it is to attach your hose: as easy as pushing the hose and faucet ends together! It's so much handier than screwing the hose into the faucet every time.
:: Secure Connection
This fits as tightly and securely as an air compressor fitting with no leaks. There are no leaks where the male and female parts connect to the hose, or to the faucet, or to your watering nozzle. 
The connections attach or detach quite easily. This surpasses any of the previous quick connects you've ever tried. It's the type of quality that you never regret purchasing.
:: Heavy Duty, Made in the USA
The sturdy quality and solid feeling of these well-made quick connect adapters will last you for years. In fact, they are guaranteed to last you for life… if they don't, we'll send you a free replacement! You are not likely to ever buy another. Don't waste your time or money on anything else. Other companies offer similar fittings. But none that we have found can live up to the quality of this product.
They can take abuse and just keep working. They won't break, crack, or come apart if you happen to tug on the hose a little too hard. You can use them in all kinds of ways, such as to connect your impact sprinklers, hand sprayers, or even to connect different hoses together.
:: Saves Water. Saves Money.
Because there are no leaks, there is no wasted water flowing out anywhere.
Also, other products often only last one or two seasons, at best. We fully expect this to last you for the rest of your life. This durability and reliability is sure to save you lots of money and hassle in the long run. This is engineered to last and keep working for you whenever it is needed.
:: Provides More Flexibility
Have you ever had to twist a hose to get the sprinkler to stay flat? A really cool feature of these quick-connects is that where the two adapters connect, they rotate freely… even while fully connected, and without any leaks. This means that you no longer have to twist hoses or wrestle other unwieldy parts. Simply rotate to whatever position you want and it will stay, without resistance!
We are confident that you are going to like these, and want them on every outdoor faucet, hose, and nozzle that you own! This is perfect for your home, RV, boat, campsite, or anywhere else you have a standard garden hose sized hookup.
The package contents includes 1 solid brass female garden hose quick connect adapter, and 2 solid brass male garden hose quick connect adapters.
Don't delay getting the ease of use and flexibility these will add to your outdoor work... 
Guaranteed to satisfy and survive... or we will replace it for you!
Your purchase includes:
~ 2 Solid Brass Male Garden Hose Quick Connect Adapters
~ 1 Solid Brass Female Garden Hose Quick Connect Adapters
BONUS!:
Purchase now to get our how-to e-book included free:
How To Have Your Own Amazing,
High-Yield, No-Till,
"Crazy Jungle" Vegetable Garden.
Own a garden that:
     ~ Is very small and easy to start
     ~ Only requires 8-10 hours of work per year!
     ~ Is virtually weed and pest bug free
     ~ And can feed your entire family!
This book is currently selling on Amazon.com, but we'll happily give it to you for FREE as our way of saying "Thanks" for being our valued customer.
Don't delay, order now!