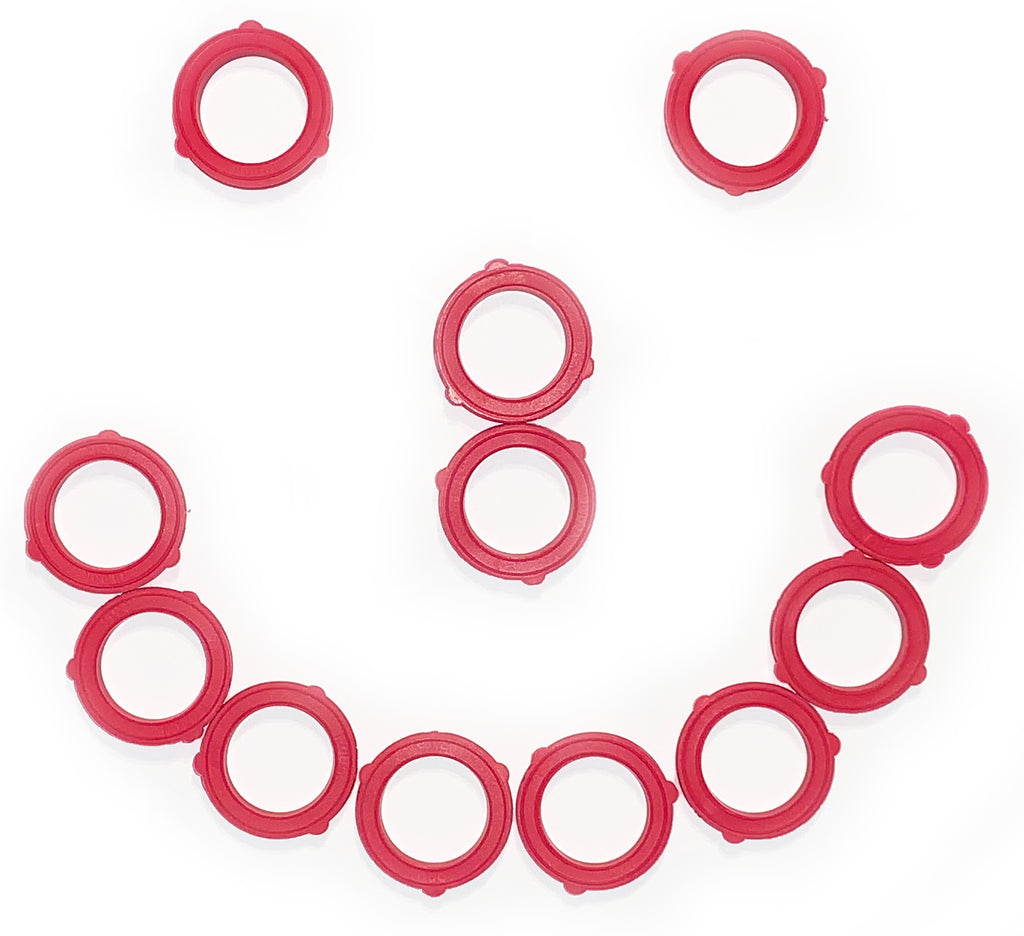 Easy To Spot Red Hose Washers by DieHard Nozzles and Garden Tools 12 Pack
EASY TO SEE: The bright red color makes these hose washers easy to find should they get accidentally dropped in the grass, dirt, or other hard to find places.
STOP THOSE ROTTEN LEAKS NOW: Don't put up with any more leaking hoses, nozzles, or sprinklers. Install these new bright red hose washers today and stop those leaks immediately.
MADE IN USA COMMERCIAL GRADE: This commercial grade washer is made in the USA and can withstand hundreds of connects and disconnects from all types of watering accessories. They are able to survive extreme heat and even freezing solid without failing to provide you with the leak-free performance you expect. They are soft enough to provide an excellent seal yet sturdy enough to last for years.
3 TABS GIVE TANTALIZING PERFORMANCE: These red washers have 3 tabs to make it easier for you to insert or remove them. Because of the tabbed design they fit well. Even if your connection is a bit misshaped, the tabs allow the washer to flex a bit, ensuring you still get that leak-proof connection. The tabs hold the washer right in the middle, ensuring perfect alignment. They also ensure the washer is snug and will not fall out whenever you don't have anything screwed in.
STANDARD FIT: These red hose washers fit all standard USA garden fittings. This includes standard hose sizes such as 5/8 inch, 1/2 inch, 3/4 inch, and more, as long as they are all using the standard USA garden hose coupler. 
Don't throw your old hoses, sprinklers, and other watering accessories away yet... first give these washers a try. You may be surprised to find that these new vibrant red hose washers are able to fix those old leaking watering tools.
Ordinary garden hose washers quickly get hard, which is one of the reasons why you get the "leaks." Our sunny red washers are manufactured to stay pliable and work for up to 3 or more years of use before they need to be replaced.
Unlike the shapeless factory-supplied washers that come with your garden hose or hose nozzle, ours are made of superior, high-quality materials – so they are long lasting.
These red washers are made in the USA, and the tabbed design allows for fast and easy installation into your garden hose or nozzle. They stay put all by themselves, giving you the perfect alignment for leak-free performance.
Our washers are designed to go inside 1 inch (3/4 inch pipe) couplings. This means they will fit all standard USA garden hose couplings, nozzles and watering accessories. Even if your hose is 1/2 inch, or 5/8 inch, or 3/4 inch, if they use the standard garden hose coupling they will fit.
Between each male/female connection on your hose or watering tool you need to have one of these red hose washers installed in-between to ensure you enjoy continued leak-free performance.
The washers come packaged 12 washers inside a small and handy re-usable box that provides convenient storage for your extra washers, keeping them on the ready and easy to find whenever you need them in the future.