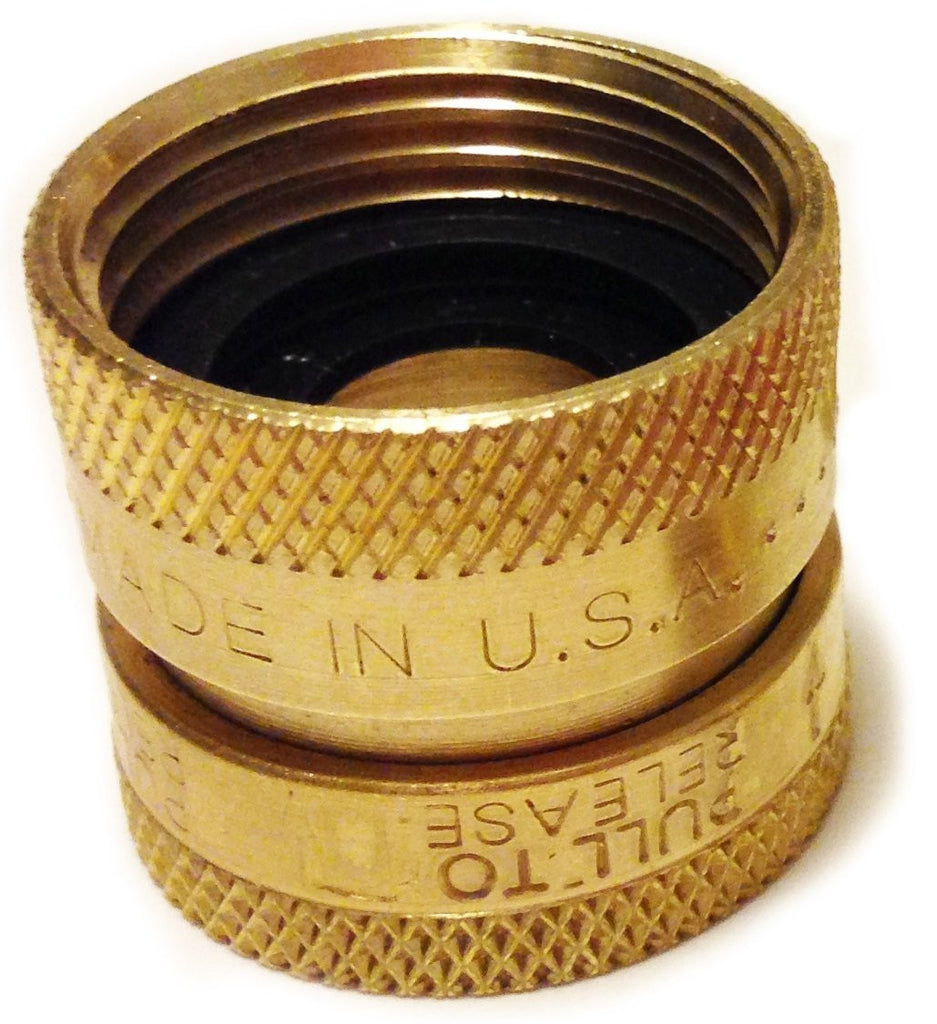 World's Best Garden Hose Quick Connect Female Adapter
Secure Connection. Easy Off-And-On Adapter Provides A Tight, Secure Fit, No-Leak Connection. This fits as tightly and securely as an air compressor fitting with no leaks. There are no leaks when connecting to the hose, or to the faucet, or to your watering nozzle. Attaches or detaches easily. The quality of these adapters surpasses other quick connects adapters. It's the type of quality that you never regret buying.

Provides More Flexibility. Have you ever had to buy more male adapters than you needed, simply to get the female adapters that came along with them? No more! This special FEMALE ONLY package is made just to suit your needs!

Qty: 1 FEMALE garden hose quick connect adapter that connect with The World's Best Garden Hose Quick Connector male adapter. Fits standard garden hoses, nozzles, and other watering tools. Designed exclusively to match The World's Best Garden Hose Quick Connect Adapters; may also work with other brands.

Heavy Duty, Made in the USA: Built Like A Tank To Withstand Abuse! Guaranteed For LIFE! The sturdy quality and solid feeling of this well-made quick connect FEMALE adapter will last you for years. In fact, they are guaranteed to last you for life... if they don't, we'll send you a free replacement! You are not likely to ever buy another. Don't waste your time or money on anything else. Other companies offer similar fittings. But none that we have found can live up to the quality of this product. They can take abuse and just keep working. They won't break, crack, or come apart if you happen to tug on the hose a little too hard. You can use them in all kinds of ways, such as to connect your impact sprinklers, hand sprayers, or even to connect different hoses together. All brass construction... no aluminum, no plastic!

If You Don't Have One Of These, Do Yourself A Favor And Get One Now! You Will Not Find Anything Else Better Made!
The Female Adapter For The World's Best Garden Hose Quick Connect Adapter Set
Have you ever wanted to use your garden hose quick connect adapter on multiple nozzles or other watering tools, but didn't have enough female adapters to go around?
This package was created specifically to allow you to get more female adapters without having to be forced to buy additional male adapters that you don't need.
These quality, all-brass female adapters are proudly MADE IN THE USA, and come with a lifetime warranty.
We guarantee these to work 100% with The World's Best Garden Hose Quick Connect Adapter Set. They may also work with other brands, but we haven't tested them for any specific brands.
This is the female end for the male adapters (sold separately). These female ends fit onto your hose or spigot. The male ends (sold seperately) fit onto the end of your nozzle, sprayer, or sprinkler, etc.
This female garden hose quick connect adapter works great for many uses, not just garden hose nozzles or sprinklers. Other popular uses include making the process of hooking up/unhooking your RV water connection a real quick and easy task.
Plastic/aluminum/rubber products tend to fail very quickly. We are confident this all brass product will give you a lifetime of use! It is not brass plated aluminum. Rather, this is solid brass through-and-through!
We deliver only the very highest quality products that we can find. This product stands up to the outdoor environment very well. We are so confident in the quality that we unhesitatingly provide it to you with a lifetime warranty. Simply let us know if it fails to meet or exceed your expectations, and we will promptly issue you a refund or replacement.